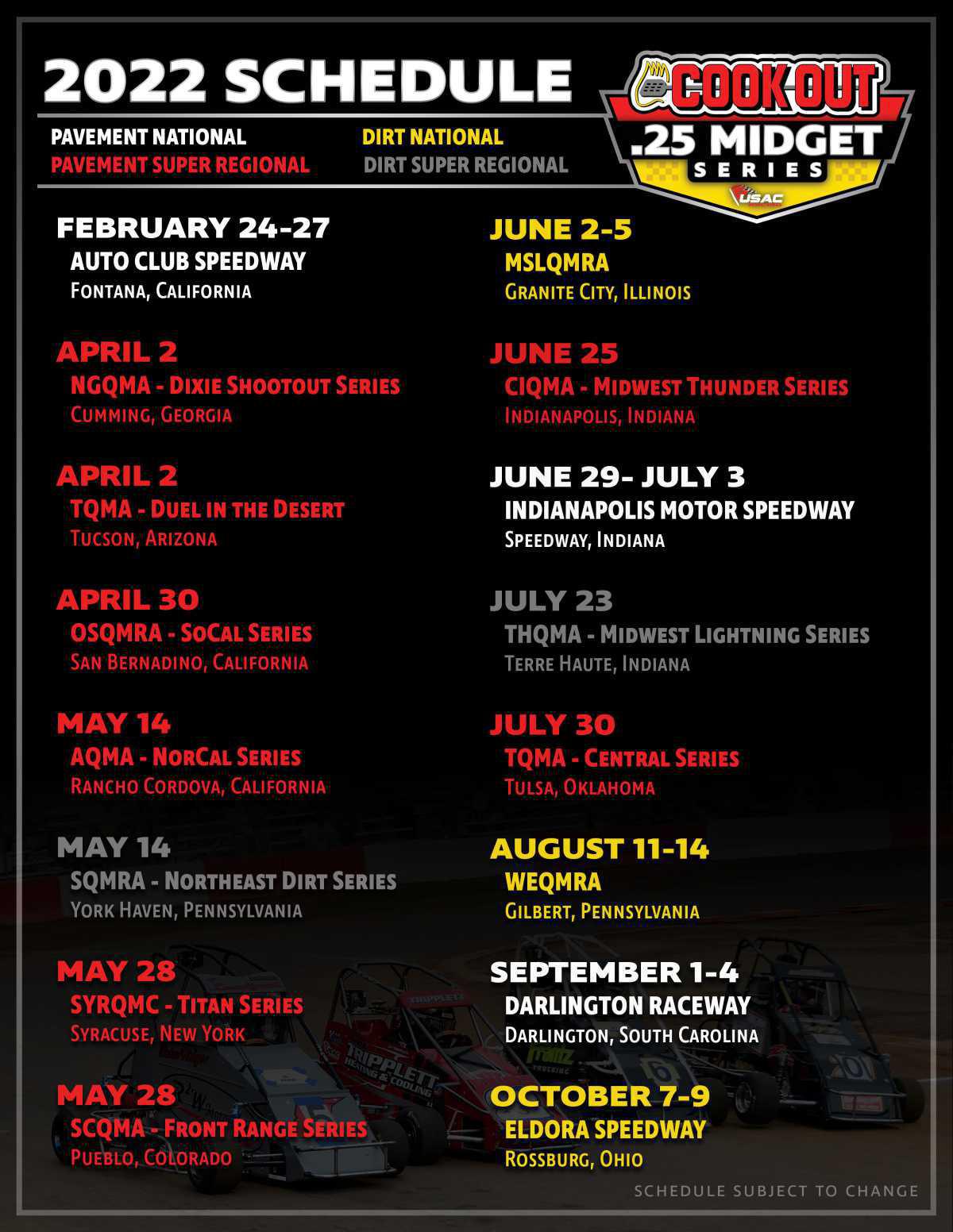 For the 2022 USAC National Schedule, we have comprised 3 pavement races, and 3 dirt races. Pavement will include:
- Auto Club Speedway alongside NASCAR in the Auto Club Speedway FanZone
-Indianapolis Motor Speedway for the return of the Battle at the Brickyard
-Darlington Raceway alongside of NASCAR for the Cookout Southern 500
Dirt will Include:
-TriCity Junior Speedway in Granite City Illinois alongside of NASCAR at Gateway
-WestEnd in Gilbert PA
-Eldora Speedway
The Cook Out USAC .25 Series continues to see growth in the number of Clubs and Participants, and expands the national footprint to now include a bulk of the West Coast quarter midget racing action. In 2022, USAC .25 will see over 55 Clubs nationwide and has added several new Club members in the State of California!
The 2022 Cook Out National Championship introduces a fresh approach to the National Points Ranking system, allowing a broader reach of members the opportunity to participate and increase the number of National events held at host Club tracks, while continuing to offer the kids exceptional opportunities at larger events held in conjunction with Nascar races and large special venues, such as Indianapolis Motor Speedway!
For 2022, competitors who elect to run for National Championship points will be required to run a minimum of 2 National Events and 2 Super Regional events (total of 4 events) to qualify for the National Pavement Ranking System. Dirt participants will be required to run a minimum of 2 National Events and 1 Super Regional Event (total of 3 events) to qualify for the National Dirt Ranking System. Dirt and Pavement Championships will be kept separate and all races must be on the surface type for that chosen Championship.
NEW - SUPER REGIONAL RACES
In 2022, USAC will introduce new "Super Regionals" into the National Points structure, which is just a new definition to the National Races held at Club Tracks in the past few years. The new definition comes with some slight modifications which allow MORE Clubs to host National Points events and capture ALL of the entry fee revenue to support the Club financially, and allow participants increased flexibility nationwide to race for the Cook Out National Championship.
Each Region across the country will host one Super Regional event. Participants running for the National Championship must run a minimum of two (2) Super Regionals to qualify for National Points Rankings for Pavement (one Super Regionals to Qualify for National Points Rankings for Dirt). The ranking system will use your AVERAGE points, so running more than 2 Super Regionals will only impact your total ranking based on your performance. Additionally, those who are comfortable with their points average after at least two events can "LOCK-IN" their points at anytime after meeting the minimum number of events (2 National, 2 or more Super Regional for Pavement or 2 National, 1 or more Super Regional for Dirt) to allow for added racing competition without the concern of impacting your points.
NEW - CAR COUNT BONUS
For 2022, a car count "bonus" per event will be added to your position points earned up to 10 cars per class on SUPER REGIONAL EVENTS ONLY. We have monitored larger events over the past 6 years and have found slight differences in car class counts at larger events.
HOW POINTS ARE EARNED
All National and Super Regional races will count for National Points under the same point structure. Car Count bonus points will be specific to each individual event.
We use AVERAGE POINTS to account for individuals who wish to race more than the minimum required 4 races (2 National, 2 or more Super Regional for Pavement or 2 National, 1 or more Super Regional for Dirt). Some competitors will find running more races can improve their overall points score and want to elevate their ranking throughout the year. There will be 3 National Races on Dirt and Pavement each, and multiple Super Regional events (we expect 2 for Dirt and more than 8 for Pavement). Running more than the minimum number of events impacts your overall ranking only based on how you finish.
For Competitors who are good with their average score but want to continue to participate in the larger events, you can LOCK-IN your National races and/or Super Regional races after achieving the minimum number of events in that category (2 National, 2 or more Super Regional for Pavement or 2 National, 1 or more Super Regional for Dirt). You can even Lock-In after running more than the minimum, for example after running four Super Regionals you can Lock In your Super Regional points and continue to run for fun the rest of the season.
NO THROW OUT RACES
Allowing "best number of races" and throwing out poor performances creates the ability for those who have the luxury of time and resources to enhance their performance simply by increasing the number of racing opportunities, and does not necessarily recognize top performance when all factors are considered. Yes, some will have a bad event, and that can be overcome with racing at an increased number of events to improve your average.