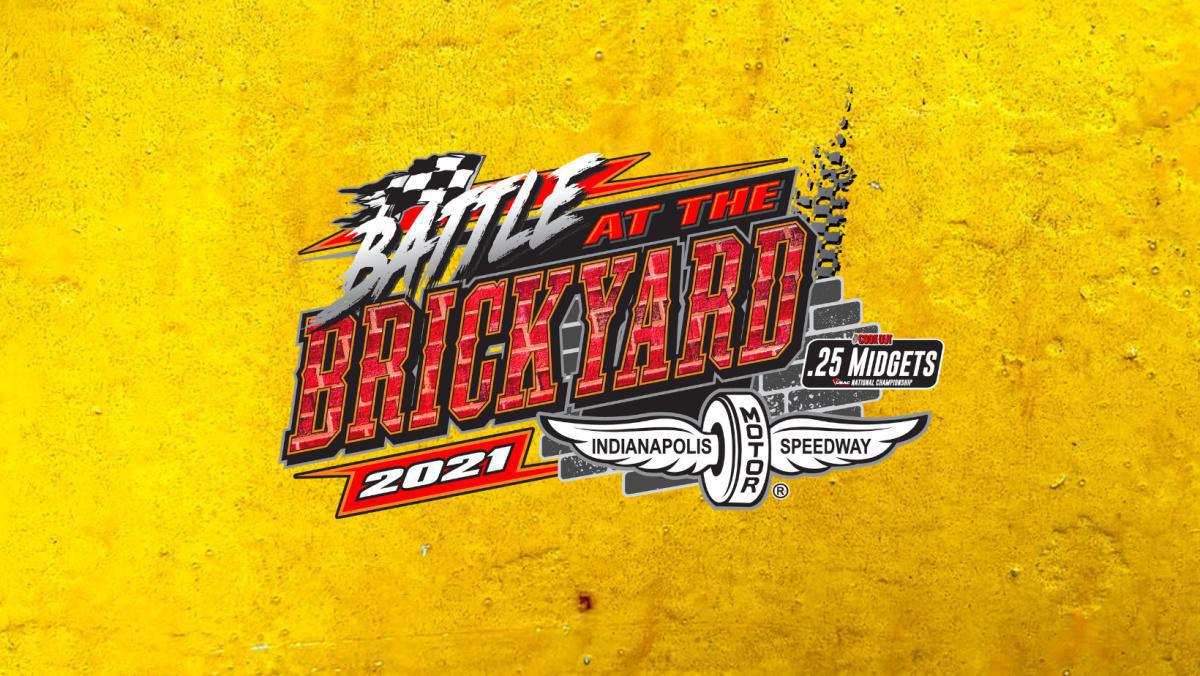 7/1, 10AM – Thursday's schedule, along with important event information and rules, are ready to view.
(Scroll to the bottom for full details.)
Note – we will be broadcasting A Mains on Flo Racing on Sunday, July 4th. Time TBD. Sign up to watch at floracing.com/signup
______________________________________
Thank you to everyone who has registered to take part in the Battle at the Brickyard, 6/30-7/3 at the Indianapolis Motor Speedway! We can't wait to see you there. Keep scrolling for the schedule, track map and daily updates .
Online Registration Timeline:
Event registration opens: June 1st (500 only)
Priority parking opens: June 7th
Registration re-opens: June 18th (specific vehicle classes only)
______________________________________
(SCHEDULE IS REVISED AS OF 6/30, 4:30PM. SCROLL BELOW FULL SCHEDULE TO VIEW THURSDAY SCHEDULE.)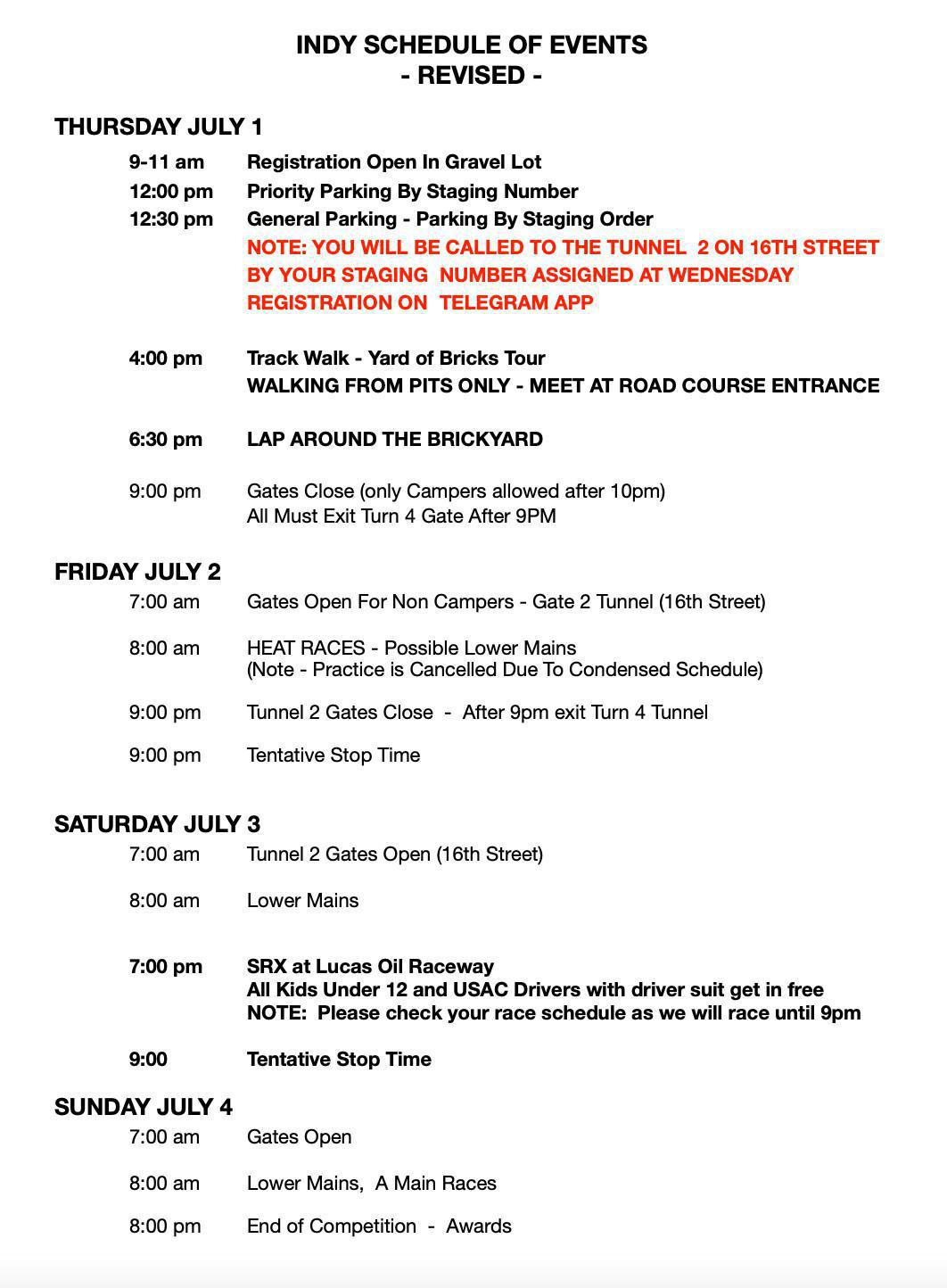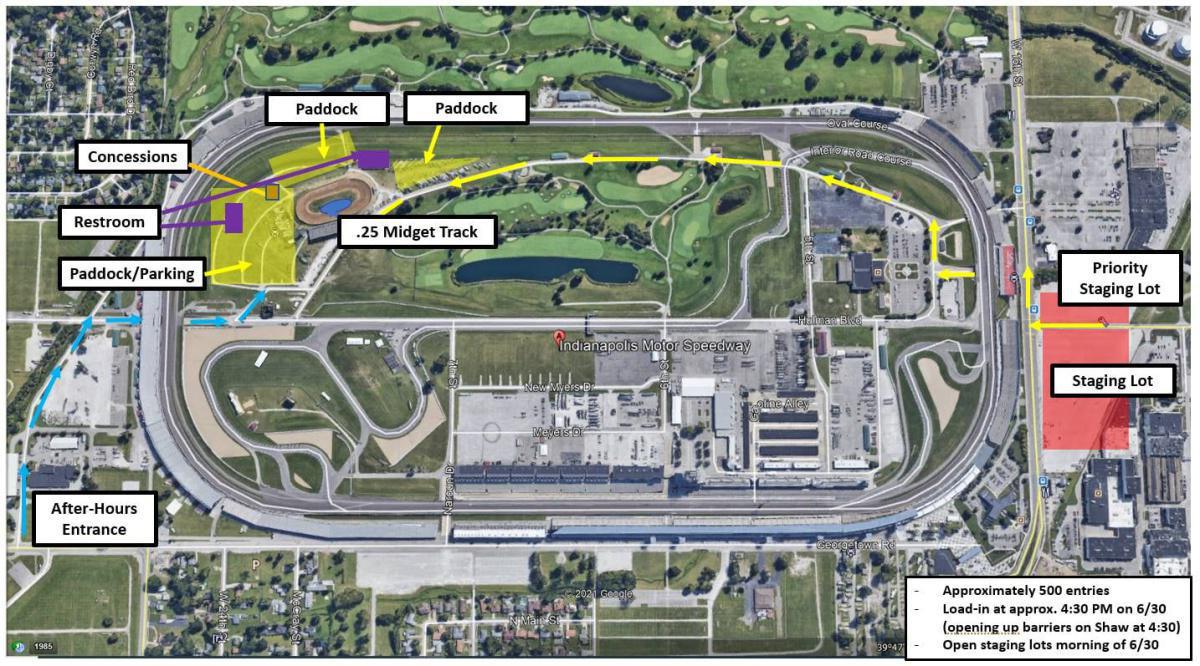 ______________________________________
THURSDAY SCHEDULE AND EVENT UPDATES AS OF JULY 1ST - 10 AM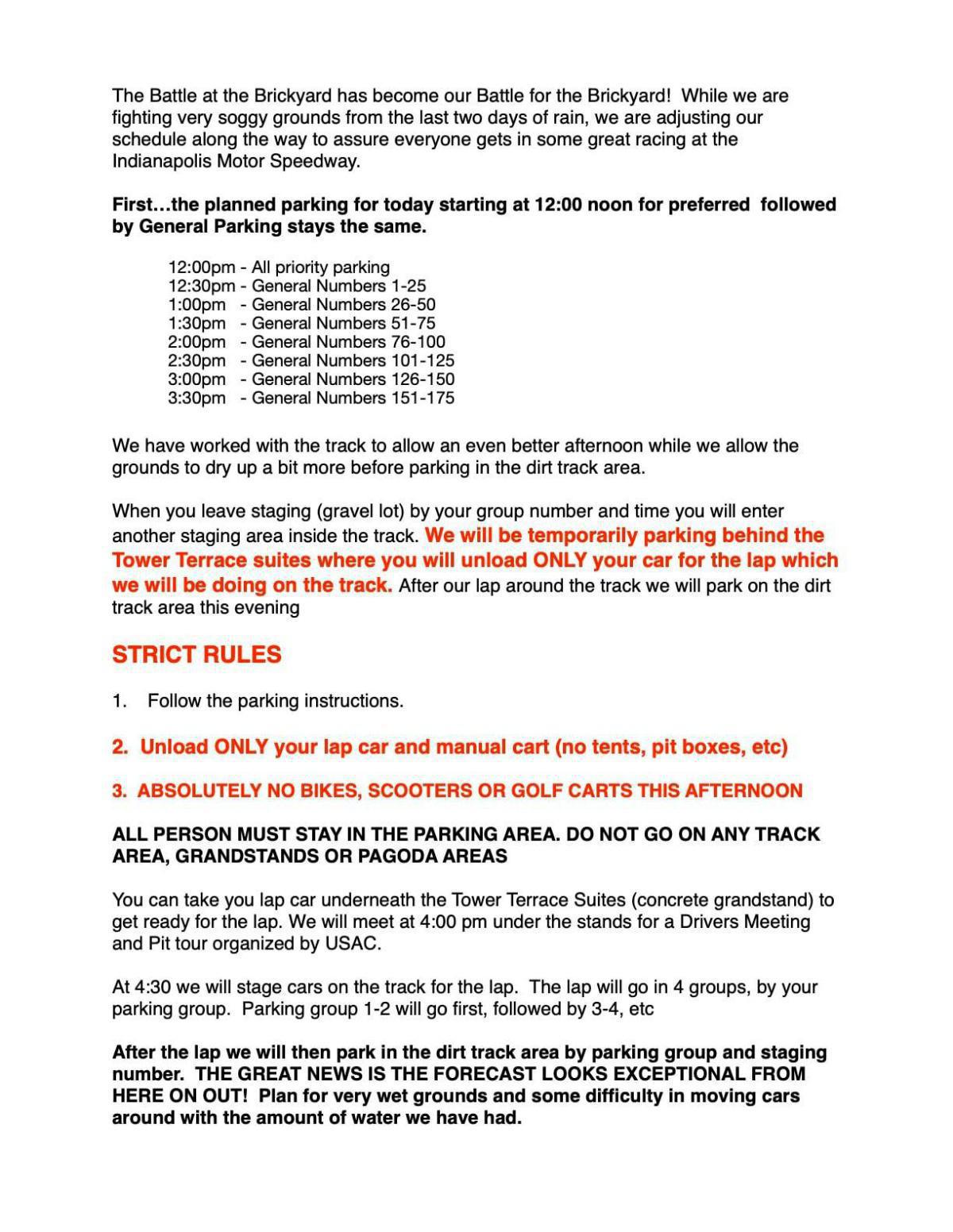 Parking times (Meet in the gravel lot at your assigned time):
12:00pm - All priority parking
12:30pm - General Numbers 1-25
1:00pm - General Numbers 26-50
1:30pm - General Numbers 51-75
2:00pm - General Numbers 76-100
2:30pm - General Numbers 101-125
3:00pm - General Numbers 126-150
3:30pm - General Numbers 151-175
Please do not arrive early as that will clog up the gravel lot.
Your number is on the back of your blue ticket in sharpie.
Registration will open from 9-11 in the gravel parking lot. It will close down from 11-12, then reopen inside the speedway at 12
______________________________________
SCHEDULE AND EVENT UPDATES AS OF JUNE 30TH - 4:30 PM
The updated schedule is here! See above.
IMPORTANT NOTES:
This schedule Is based on starting Heat Races at 8am Friday morning. With this schedule, we expect to complete the full National Points Competition for this event. Based on the Friday am start, practice must be cancelled to assure we get in the full racing program.
If unforeseen weather, or track issues confront us, the plan may require a change in the competition schedule on Friday. Additional adjustments may be necessary, including but not limited to time limits, to assure a full race event.
In the event a full race schedule is not possible due to further time constraints that may impact our normal format, we will continue competition, however we will implement the National rainout procedures found in the USAC Competition rulebook.
______________________________________
SCHEDULE AND EVENT UPDATES AS OF JUNE 30TH - 9 AM
Just a little rain on our parade! Registration is now open in the staging lot across from IMS on 16th Street. REGISTRATION WILL REMAIN OPEN UNTIL 8PM. With rain in the forecast all day and SIGNIFICANT rain already received overnight we are revising our parking plans for today.
You will be given a parking number in staging and that is the order of parking (General and Preferred separate).
We ask that all who can, please come to the staging lot and register and get all paperwork completed.
After that is completed, we will not hold everyone in staging, as we now plan to park tomorrow morning with an adjusted event schedule. There will be no activities today at IMS.
We have arranged for overnight parking in the concrete paddock at Lucas Oil Raceway. AFTER REGISTRATION at IMS gravel lot, you are welcome to unhook or stay in a motorhome at Lucas Oil Raceway.
ENTER LUCAS OIL RACEWAY in GATE 2 from East County Road 300 North. Do this ONLY after your have registered for the event.
Please stay on top of the latest details through the Telegram App. The weather for the weekend looks good and we are working on a revised schedule for all competition activities.
______________________________________
SCHEDULE AND EVENT UPDATES AS OF JUNE 28TH – 10 PM
As many of you are aware, unseasonable rains have hit the midwest in the recent week and we do have some rain in the forecast this week, however the forecast continues to change in our favor! However, with this much precipitation we have been forced to move our parking areas to a more firmer ground area than originally planned due to the potential of wet grounds. This is not a large change, but one that has made us make some changes to better prepare ourselves and protect the overall event and experience for all attending. The changes below reflect our precautionary view of managing the overall event competition timeline.
PARKING TIME HAS CHANGED TO 2PM
We have worked with the Indianapolis Motor Speedway on adjustments within their schedule to NOW start parking at 2pm on Wednesday, June 30. THIS WILL ALLOW US TO RUN THE LAP AROUND IMS STILL WEDNESDAY NIGHT! Staging will still start at 9:00 am Wednesday morning in the staging lot on the corner of Polco and 16th Streets. Please note - THERE IS NO PRE-STAGING IN THE AREA PRIOR TO 9 AM. Police will move you from areas where trailers are parked. Polco is a very active two lane street and there is no pre-staging to get into staging. PARKING FOR BOTH GENERAL & PREFERRED WILL BE HOW YOU LINE UP IN STAGING (it would be very difficult to rearrange 220 trailers prior to entering the Speedway).
THE LAP WILL BE WEDNESDAY NIGHT AT 7:30 PM
With an earlier parking window, we will move the "LAP" back to Wednesday night at 7:30 pm. This will allow for a better overall experience for families rather than the pressure of competition which was starting right after when planned for Thursday. There will be a livestream setup at the start /finish line and a professional cameraman also capturing cars crossing the yard of bricks. A handlers meeting will be at 7:00 pm prior to the Lap.
ALL TRAILERS WILL NEED TO BE UNHOOKED
This change is being driven by a change in our parking layout for this event. One larger area in our original parking plan has been restricted to not use for parking due to the wet nature and likely very soft ground. In fact, with one rain storm after the 1st BC39 race, many trailers had to be pulled out by tractor from this area. Shifting the parking area requires all trailers to be unhooked. Campers will be set in an area closer to restrooms and all will be in the same designated Camping Zone. If you plan on staying at the track overnight, YOU MUST HAVE A CAMPING PASS
ALL NON-MEMBERS MUST HAVE A PAID WEEKEND ADMISSION
All family members of registered cars for the USAC Battle at the Brickyard will get a complimentary IMS weekend pass as part of their registration. All non-members (those who are not listed on your family membership) must purchase a IMS Weekend Pass for $25 good for the weekend.
GOLF KARTS & QUAD RULES
Golf karts and quads can be used ONLY FOR MOVEMENT OF RACE CARS, and you must be over the age of 18 years old to drive. This will be a VERY STRICT policy and may lose your use privilege or forfeit the entire event with any abuse.
WAIVERS
EVERYONE entering the Speedway MUST have completed a signed waiver to obtain a wristband. For convenience, this can be competed on your phone by going to the link below:
Child waivers MUST BE SIGNED BY BOTH PARENTS and BE IN PRINT FORMAT. Please have at registration. Click file below to download a copy
21_IMS_MinorRelease_Participant_Notary Final.pdf
REMINDERS
This is a privilege to be racing in one of the greatest racing venues in the world. We have been asked to abide by their house rules, and protecting our privilege to race again in 2022 is one of our most important priorities. Please respect the facility with some simple guidelines
- Pop-Up Tents are ONLY allowed in your paddock area. There will be no tents allowed on or near the dirt track area.
- Please do not leave tire residue on the grass from scraping, and please do not leave any trash or tires behind on your exit.
- Absolutely no persons should be anywhere outside of the dirt track area unless a planned USAC .25 activity. Anyone violating this rule risk removal from property. Campers must stay contained in camping area in after hours, with in-out vehicle privilege through the turn 4 tunnel.\
- Absolutely no parking except in designated parking areas. The Speedway has spent large sums of money on new grass as part of their recent renovation and are very sensitive to protecting these areas. Park no where except where instructed by USAC 25 officials.
- The Event has a HARD STOP on Sunday at 6pm to assure all persons and trailers are off property by 9pm Sunday July 4th. This is required as another event is scheduled and the track must reconfigure the temporary road course walls into place. Please understand this time sensitivity we have as we manage 500 entries and 250 families coming to race this weekend.