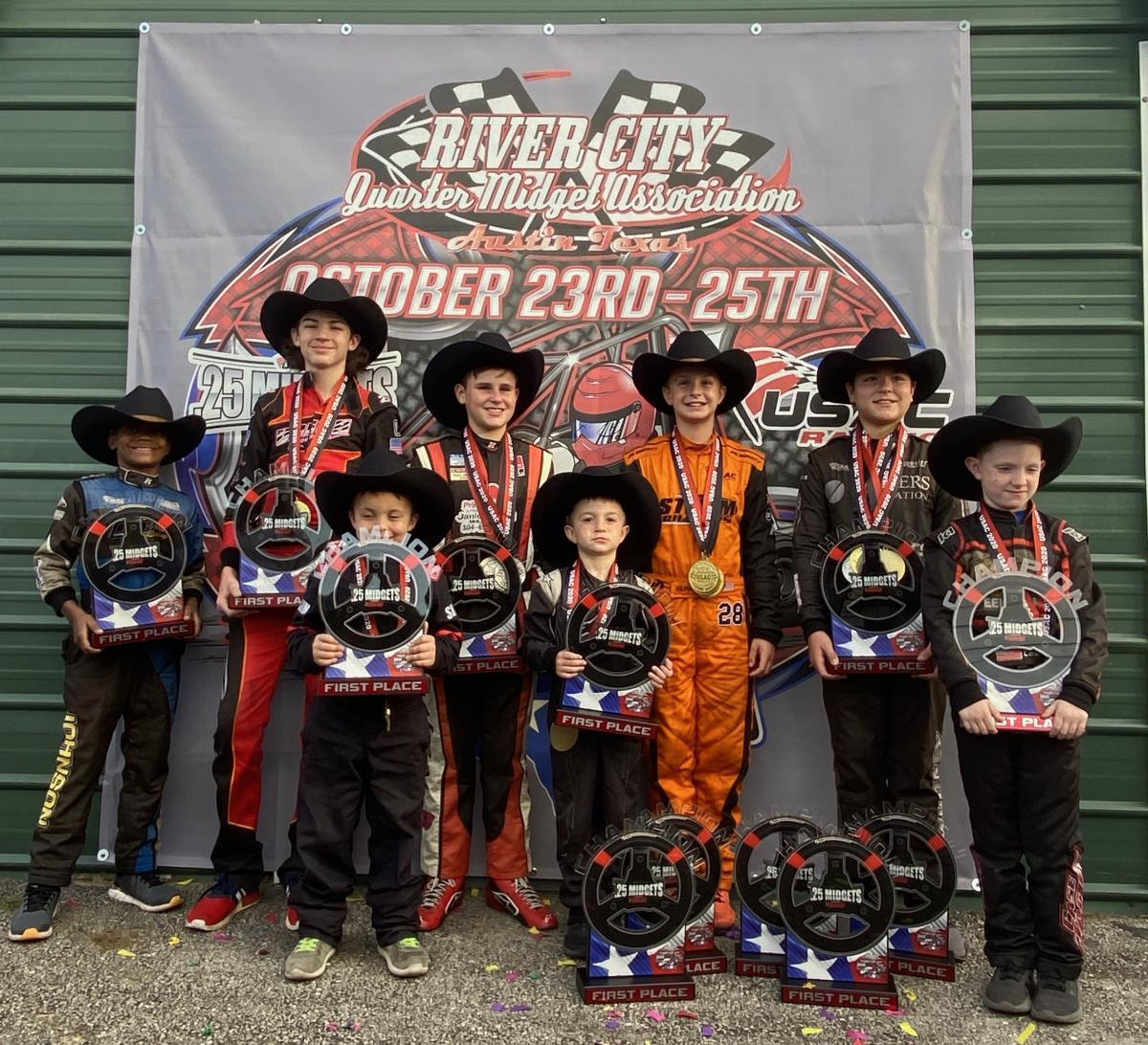 Drivers from all over the country made their way down to the Lone Star state to compete in the USAC.25 Series Presented by Cook Out national race on Oct. 23-25.
More than 75 drivers made up the 160 entries that raced at the USAC.25-sanctioned club, River City QMA in Austin, Texas. For some of the drivers this was their first opportunity to race in 2020 and for others it was their first USAC.25 national series race.
At the end of the event, Gunnar Pio had swept all five of the following classes: Senior Honda, Senior Animal, Light 160, Light World Formula and Mod Formula. Earning the coveted MPI Innovations UP ON THE WHEEL award was Jackson Diehl. This award is presented to drivers that may have had to overcome adversity in a race while displaying good sportsmanship to his or her peers and race officials throughout the race weekend.
Congratulations to all of the winners!
Complete results are:
| | | | | | | |
| --- | --- | --- | --- | --- | --- | --- |
| place | class | lastname | firstname | main | start | finish |
| 1 | Light World Formula | Pio | Gunnar | A | 2 | 1 |
| 2 | Light World Formula | Sherman | Drew | A | 4 | 2 |
| 3 | Light World Formula | Lockman | Gery | A | 5 | 3 |
| 4 | Light World Formula | DEIGHTON | RJ | A | 1 | 4 |
| 5 | Light World Formula | Johnson | Caleb | A | 9 | 5 |
| 6 | Light World Formula | Lupton | Tyler | A | 8 | 6 |
| 7 | Light World Formula | Spicola | Enzo | A | 6 | 7 |
| 8 | Light World Formula | Cox | Kaleb | A | 10 | 8 |
| 9 | Light World Formula | Long | Jensen | A | 3 | 9 |
| 10 | Light World Formula | Santizo | Adam | A | 7 | 10 |
| 11 | Light World Formula | Hale | Jace | A | X | |
| 12 | Light World Formula | Holladay | Jaxen | B | 8 | 6 |
| 13 | Light World Formula | McNeill | Kaeston | B | 7 | 7 |
| 14 | Light World Formula | Keeney | Skyler | B | 6 | 8 |
| 15 | Light World Formula | Hayes | Yasamine | B | 9 | 9 |
| 1 | Light 160 | Pio | Gunnar | A | 1 | 1 |
| 2 | Light 160 | Christensen | Seth | A | 5 | 2 |
| 3 | Light 160 | Pio | Quinlan | A | 8 | 3 |
| 4 | Light 160 | Spicola | Enzo | A | 7 | 4 |
| 5 | Light 160 | Cox | Kaleb | A | 3 | 5 |
| 6 | Light 160 | Johnson | Caleb | A | 6 | 6 |
| 7 | Light 160 | James | Case | A | 2 | 7 |
| 8 | Light 160 | Johnson | Emory | A | 10 | 8 |
| 9 | Light 160 | Holladay | Jaxen | A | 9 | 9 |
| 10 | Light 160 | DEIGHTON | RJ | A | 4 | 10 |
| 11 | Light 160 | Diehl | Jackson | A | X | |
| 12 | Light 160 | Erickson | Carter | B | 9 | 6 |
| 13 | Light 160 | Sherman | Drew | B | 10 | 7 |
| 14 | Light 160 | Pena | Tristan | B | 7 | 8 |
| 15 | Light 160 | Lupton | Tyler | B | 4 | 9 |
| 16 | Light 160 | Lockman | Gery | B | 3 | 10 |
| 17 | Light 160 | McNeill | Kaeston | B | X | |
| 18 | Light 160 | Hale | Jace | C | 5 | 6 |
| 19 | Light 160 | Long | Jensen | C | 10 | 7 |
| 20 | Light 160 | Keeney | Skyler | C | 2 | 8 |
| 21 | Light 160 | Remore-Weaver | Matthew | C | 7 | 9 |
| 22 | Light 160 | Pate | Alex | C | 8 | 10 |
| 23 | Light 160 | Hale | Colton | C | X | |
| 24 | Light 160 | Hamlin | James | D | 5 | 6 |
| 25 | Light 160 | McAbee | Makayla | D | 4 | 7 |
| 1 | Sr. Animal | Pio | Gunnar | A | 2 | 1 |
| 2 | Sr. Animal | DEIGHTON | RJ | A | 1 | 2 |
| 3 | Sr. Animal | Hale | Jace | A | 7 | 3 |
| 4 | Sr. Animal | Lupton | Tyler | A | 6 | 4 |
| 5 | Sr. Animal | Diehl | Jackson | A | 10 | 5 |
| 6 | Sr. Animal | Spicola | Enzo | A | 5 | 6 |
| 7 | Sr. Animal | Lockman | Gery | A | 4 | 7 |
| 8 | Sr. Animal | Santizo | Adam | A | 8 | 8 |
| 9 | Sr. Animal | Johnson | Caleb | A | 3 | 9 |
| 10 | Sr. Animal | Pena | Tristan | A | 9 | 10 |
| 11 | Sr. Animal | Keeney | Skyler | A | X | |
| 12 | Sr. Animal | Pate | Alex | B | 6 | 6 |
| 13 | Sr. Animal | McNeill | Kaeston | B | 2 | 7 |
| 14 | Sr. Animal | soares | hank | B | 5 | 8 |
| 15 | Sr. Animal | Becker | Micah | B | 4 | 9 |
| 16 | Sr. Animal | Hayes | Yasamine | B | 10 | 10 |
| 1 | Sr. Honda | Pio | Gunnar | A | 1 | 1 |
| 2 | Sr. Honda | Diehl | Jackson | A | 7 | 2 |
| 3 | Sr. Honda | Christensen | Seth | A | 10 | 3 |
| 4 | Sr. Honda | Lupton | Tyler | A | 2 | 4 |
| 5 | Sr. Honda | Sherman | Drew | A | 5 | 5 |
| 6 | Sr. Honda | Kroening | Camden | A | 3 | 6 |
| 7 | Sr. Honda | Holladay | Jaxen | A | 4 | 7 |
| 8 | Sr. Honda | Johnson | Caleb | A | 8 | 8 |
| 9 | Sr. Honda | DEIGHTON | RJ | A | 6 | 9 |
| 10 | Sr. Honda | Remore-Weaver | Matthew | A | 9 | 10 |
| 11 | Sr. Honda | Lockman | Gery | A | X | |
| 12 | Sr. Honda | McNeill | Kaeston | B | 4 | 6 |
| 13 | Sr. Honda | Keeney | Skyler | B | 2 | 7 |
| 14 | Sr. Honda | Becker | Micah | B | 3 | 8 |
| 15 | Sr. Honda | Ernst | Shyla | B | 5 | 9 |
| 16 | Sr. Honda | Hale | Jace | B | 9 | 10 |
| 17 | Sr. Honda | Wilson | Weston | B | X | |
| 18 | Sr. Honda | Pate | Alex | C | 6 | 6 |
| 19 | Sr. Honda | soares | hank | C | 2 | 7 |
| 20 | Sr. Honda | Smith | Rowdy | C | 8 | 8 |
| 21 | Sr. Honda | Erickson | Carter | C | 9 | 9 |
| 1 | Jr. Honda | Johnson | Emory | A | 4 | 1 |
| 2 | Jr. Honda | Bennett | Cole | A | 5 | 2 |
| 3 | Jr. Honda | Pio | Quinlan | A | 7 | 3 |
| 4 | Jr. Honda | Spicola | Bristol | A | 3 | 4 |
| 5 | Jr. Honda | James | Case | A | 2 | 5 |
| 6 | Jr. Honda | Hale | Colton | A | 8 | 6 |
| 7 | Jr. Honda | McKinney | Colt | A | 10 | 7 |
| 8 | Jr. Honda | Mendoza | Ellis | A | 9 | 8 |
| 9 | Jr. Honda | Santacruz | Romeo | A | 6 | 9 |
| 10 | Jr. Honda | Reuter | Garrett | A | 1 | 10 |
| 11 | Jr. Honda | Page | Mavrick | A | X | |
| 12 | Jr. Honda | Thulin | Madden | B | 6 | 6 |
| 13 | Jr. Honda | Diehl | Lily | B | 10 | 7 |
| 14 | Jr. Honda | McAbee | Makayla | B | 7 | 8 |
| 15 | Jr. Honda | McNeill | Ryker | B | 9 | 9 |
| 16 | Jr. Honda | Stafford | Brooks | B | 1 | 10 |
| 17 | Jr. Honda | West | Madison | B | X | |
| 18 | Jr. Honda | Tinsley | Matai | C | 10 | 6 |
| 19 | Jr. Honda | Jones | Grayson | C | 6 | 7 |
| 20 | Jr. Honda | Kimler | Gauge | C | 5 | 8 |
| 21 | Jr. Honda | Waldrop | Kodi | C | 8 | 9 |
| 22 | Jr. Honda | Lee | Kevin | C | 4 | 10 |
| 1 | Jr. Animal | James | Case | A | 2 | 1 |
| 2 | Jr. Animal | Pio | Quinlan | A | 6 | 2 |
| 3 | Jr. Animal | Bennett | Cole | A | 4 | 3 |
| 4 | Jr. Animal | Spicola | Bristol | A | 1 | 4 |
| 5 | Jr. Animal | Johnson | Emory | A | 3 | 5 |
| 6 | Jr. Animal | McAbee | Makayla | A | 7 | 6 |
| 7 | Jr. Animal | Hale | Colton | A | 5 | 7 |
| 8 | Jr. Animal | Stafford | Brooks | A | 9 | 8 |
| 9 | Jr. Animal | Reuter | Garrett | A | 8 | 9 |
| 10 | Jr. Animal | McNeill | Ryker | A | 10 | 10 |
| 11 | Jr. Animal | Thulin | Madden | A | X | |
| 12 | Jr. Animal | Page | Mavrick | B | 3 | 6 |
| 13 | Jr. Animal | Mendoza | Ellis | B | 4 | 7 |
| 14 | Jr. Animal | Kimler | Gauge | B | 9 | 8 |
| 15 | Jr. Animal | Coleman | Andrew | B | 8 | 9 |
| 1 | Red Rookie | Orlowski | Jaxson | A | 6 | 1 |
| 2 | Red Rookie | Johnson | Isla | A | 1 | 2 |
| 3 | Red Rookie | Ischy | Rozen | A | 2 | 3 |
| 4 | Red Rookie | Muffoletto 3rd | Rickey | A | 5 | 4 |
| 5 | Red Rookie | Sanford | Tagen | A | 4 | 5 |
| 6 | Red Rookie | White | Levi | A | 3 | 6 |
| 1 | Heavy Honda | Whitney | Reed | A | 3 | 1 |
| 2 | Heavy Honda | Gould | Madison | A | 2 | 2 |
| 3 | Heavy Honda | Wigal | Zach | A | 1 | 3 |
| 4 | Heavy Honda | Edington | Caleb | A | 4 | 4 |
| 5 | Heavy Honda | Brewer | Ray | A | 5 | 5 |
| 6 | Heavy Honda | Allen | Riley | A | 6 | 6 |
| 1 | Heavy World Formula | Wigal | Zach | A | 2 | 1 |
| 2 | Heavy World Formula | Whitney | Reed | A | 4 | 2 |
| 3 | Heavy World Formula | Gould | Madison | A | 5 | 3 |
| 4 | Heavy World Formula | Urish | Manning | A | 1 | 4 |
| 5 | Heavy World Formula | Byrd | Aiden | A | 7 | 5 |
| 6 | Heavy World Formula | Brewer | Ray | A | 6 | 6 |
| 7 | Heavy World Formula | Ludlam | Austin | A | 8 | 7 |
| 8 | Heavy World Formula | Edington | Caleb | A | 9 | 8 |
| 9 | Heavy World Formula | Holladay | Jasec | A | 3 | 9 |
| 1 | Heavy 160 | Whitney | Reed | A | 6 | 1 |
| 2 | Heavy 160 | Spicola | Chase | A | 4 | 2 |
| 3 | Heavy 160 | Holladay | Jasec | A | 3 | 3 |
| 4 | Heavy 160 | Edington | Caleb | A | 1 | 4 |
| 5 | Heavy 160 | Gould | Madison | A | 2 | 5 |
| 6 | Heavy 160 | Wigal | Zach | A | 7 | 6 |
| 7 | Heavy 160 | Lupton | Olivia | A | 9 | 7 |
| 8 | Heavy 160 | Sibery | Landon | A | 8 | 8 |
| 9 | Heavy 160 | Allen | Riley | A | X | 9 |
| 10 | Heavy 160 | Brewer | Ray | A | 10 | 10 |
| 11 | Heavy 160 | Urish | Manning | A | 5 | 11 |
| 1 | Blue Rookie | Pio | Gage | A | 1 | 1 |
| 2 | Blue Rookie | Smith | Emma | A | 3 | 2 |
| 3 | Blue Rookie | Morris | Braylon | A | 4 | 3 |
| 4 | Blue Rookie | Tinsley | Micah | A | 2 | 4 |
| 1 | Unrestricted Animal | Urish | Manning | A | 2 | 1 |
| 2 | Unrestricted Animal | Wigal | Zach | A | 1 | 2 |
| 3 | Unrestricted Animal | Edington | Caleb | A | 3 | 3 |
| 4 | Unrestricted Animal | Sibery | Landon | A | 4 | 4 |
| 5 | Unrestricted Animal | Ludlam | Austin | A | 5 | 5 |
| 1 | Formula Mod | Pio | Gunnar | A | 1 | 1 |
| 2 | Formula Mod | Wigal | Zach | A | 2 | 2 |
| 3 | Formula Mod | Whitney | Reed | A | 4 | 3 |
| 4 | Formula Mod | Hale | Jace | A | 3 | 4 |
| 5 | Formula Mod | DEIGHTON | RJ | A | 5 | 5 |